WASHINGTON, D.C. – U.S. Senator Tammy Baldwin, a member of the Senate Committee on Commerce, Science and Transportation, today pressed five members of President Trump's cabinet on why the administration's infrastructure plan fails to include a strong commitment to "Buy American, Hire American" standards.
Senator Baldwin directly asked Energy Secretary Rick Perry, Agriculture Secretary Sonny Perdue, Labor Secretary Alexander Acosta, Commerce Secretary Wilbur Ross and Transportation Secretary Elaine Chao why Buy American reforms are not included in the President's infrastructure proposal. Each of the cabinet members failed to provide a clear answer as to why Buy American reforms were not explicitly included in the Administration's infrastructure plan.
"We need to put America to work rebuilding our infrastructure and strong Buy American standards need to be at the foundation of any plan. Taxpayer money should not be spent on foreign steel from Russia and China. American workers need to rebuild our infrastructure with Made in America products," said Senator Baldwin. "President Trump didn't utter the words Buy American in his State of the Union and it isn't included in his infrastructure plan. Our workers need results and I'm going to continue pressing the Administration to back up words with action."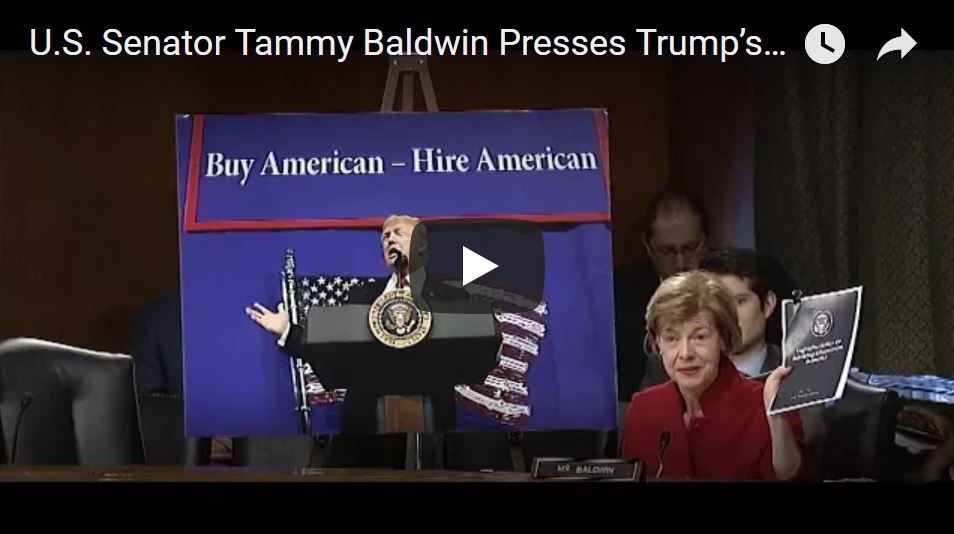 President Trump has previously pledged to rebuild America's infrastructure with American products and American workers, but he didn't mention Buy American in his State of the Union address and his infrastructure proposal does not include Buy American.
Prior to release of the President's infrastructure plan, Senator Baldwin led nine of her Senate colleagues in sending a letter to President Trump urging him to put his words into action on rebuilding America's infrastructure with a plan that has strong buy American, hire American standards.
Senator Baldwin has fought for Wisconsin workers by advancing Buy America legislation to have our infrastructure built with American products, and prevent taxpayers' money from being spent on foreign iron and steel. 
In September 2016, Senator Baldwin's legislation to rebuild America's crumbling drinking water infrastructure with American made iron and steel passed the Senate with broad bipartisan support (95-3). Speaker Paul Ryan and the Republican House Leadership stripped Senator Baldwin's legislation from the final water infrastructure bill. 
While visiting Wisconsin last April, President Trump was asked by local media if he supported Senator Baldwin's Made in America Water Infrastructure Act. President Trump said "I do," and also said, "I agree with her 100 percent." However, the President has yet to push Senate Majority Leader Mitch McConnell and House Speaker Paul Ryan to act on Baldwin's Buy America legislation.