The Wisconsin Fresh Coast Water Tour Wrap-Up
This August, Tammy spent the work period traveling the state and focusing on how Wisconsin's freshwater coasts – the Great Lakes, Mississippi River and other major waterways, like the St. Croix River – contribute to our state's economy and quality of life.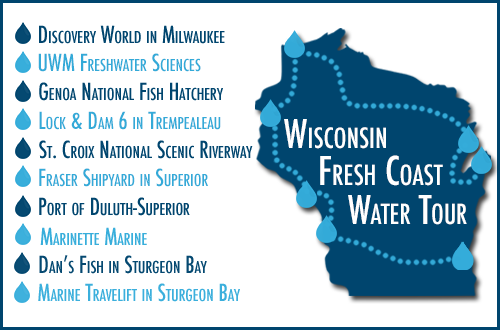 Tammy started in Milwaukee to highlight how Lake Michigan supports a "Made In Wisconsin" economy. After speaking to students at Discovery World's Career Pathways program and visiting science summer camps, Tammy toured UW-Milwaukee's School of Freshwater Sciences, the only grad program in the nation solely dedicated to the study of freshwater.
Then, Tammy made her way up the Mississippi River, stopping at the Genoa National Fish Hatchery in Vernon County and Lock and Dam 6 in Trempealeau. She also visited the St. Croix Crossing and the Saint Croix National Scenic Riverway. Tammy learned about lake sturgeon and freshwater mussel recovery and restoration programs, as well as the economic benefits of local navigational waterways.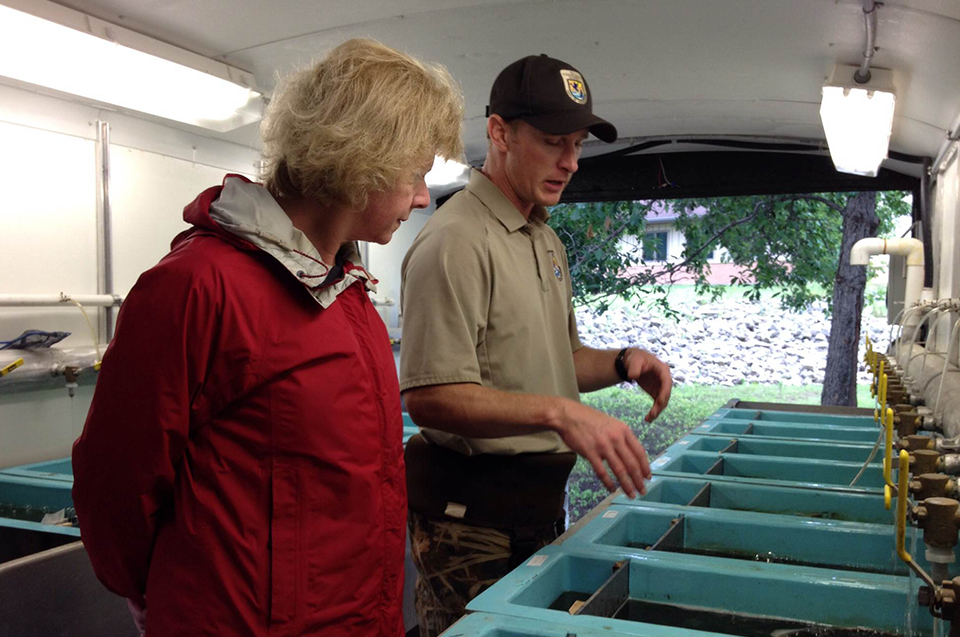 After traveling western Wisconsin up the Mississippi, Tammy stopped by Lake Superior and toured Fraser Shipyard and the Port of Duluth-Superior. She met with met with stakeholders to discuss how the Water Resources Reform and Development Act (WRRDA) supports commerce and economic growth locally and across the state. Tammy helped pass WRRDA, which addresses the Great Lakes dredging crisis and invests in Wisconsin's water infrastructure.
To cap off the month-long tour of Wisconsin's fresh coasts, Tammy toured Marinette Marine on the Menominee River, Marine Travelift and Dan's Fish in Sturgeon Bay, and spoke to the Wisconsin Port Association in Green Bay.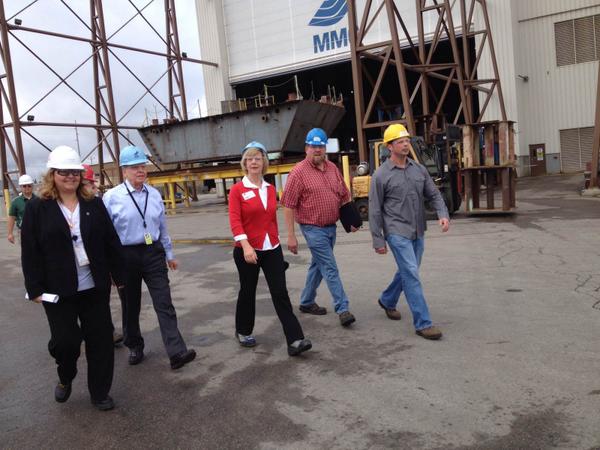 Tammy visited Marinette Marine to tour the shipyard and discuss the Littoral Combat Ship (LCS) program. Tammy is a strong supporter of the LCS program, which employs 2,000 people in Wisconsin and supports jobs in the nearly one hundred Wisconsin companies that supply parts to build the ships. Wisconsin has a strong shipbuilding industry with a history of success providing ships for our nation's defense.
Tammy then visited two businesses in Sturgeon Bay that have created local jobs and economic growth for the community with support from the Export-Import Bank. Tammy toured Dan's Fish, Inc. to discuss how this family-operated business has benefitted from Export-Import Bank investments to sell freshwater fish internationally. She also toured Marine Travelift, which uses Wisconsin-sourced materials to manufacture boat-handling equipment that is exported around the world.
Tammy is committed to restoring and protecting Wisconsin's freshwater resources, supporting investments that will strengthen our environment and our economy security. Get an in-depth look of each stop of Wisconsin Fresh Water Coast Tour here on the Baldwin Blog and @SenatorBaldwin on Twitter.
Wisconsin Fresh Coast Water Tour Updates:
Tammy Visits Western Wisconsin