Tammy Continues Fight for Northern Wisconsin Timber Economy
Today, Tammy joined a bipartisan group of her Senate colleagues to call for a vote to reform wildfire funding. In a letter to Majority Leader Reid and Minority Leader McConnell, Tammy and a group of Democrat and Republican Senators from across the country called for a vote on bipartisan legislation that she has cosponsored, the Wildfire Disaster Funding Act, which would support Wisconsin's timber and paper industry by ending "fire borrowing."
The challenges that Wisconsin's forest products industry faces are intensified by federal fire program budget shortfalls. In six of the last 10 years, Forest Service funds available to Wisconsin forests have been diverted to fight wildfires in the west.
In Wisconsin, this has resulted in substantially decreased resources that would normally be used to complete timber contracts, install ecological restoration projects, and conduct research at the Northern Research Station. Fire borrowing also hurts critical research conducted at the Forest Service's Forest Products Laboratory, which is developing innovative uses the for the type of wood that often fuels our fiercest wildfires.
Wisconsin's forest products industry has a long and proud tradition of delivering high quality timber and pulp to the state's lumber yards and paper mills. Currently, our forests and the timber industry in central and northern Wisconsin are facing a number of challenges. These need to be addressed, because when cut rates slow and contracts are held up, the entire state feels the impact, from logging crews to the wood products industry, to local businesses and schools that are hurt by the slowdown.
As a co-sponsor of the Wildfire Disaster Funding Act, Tammy has strongly advocated to end fire borrowing while stabilizing wildfire funding. And after Tammy sent a letter to the White House urging action, the President released a budget proposal that ensures Wisconsin's forests will get more of the resources they need. The Forest Service must have a stable and sufficient budget in order to be an effective partner for Wisconsin industry and meet the federal government's longstanding obligations to our forest communities.
As a Wausau Daily News Editorial noted, "One U.S. senator is working to help northern Wisconsin's economy… Baldwin's work on the forestry issue is pragmatic and non-ideological. This is no headline-grabbing initiative and it's not likely to get her booked on cable news shows. Instead, it's a substantive reform that would help provide a lifeline to some struggling rural Wisconsin towns."
Tammy is committed to working across party lines, with the National Forest Service and with other stakeholders in Wisconsin, to address these crucial budgetary issues.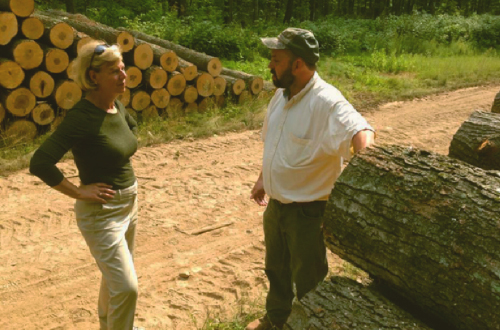 Tammy discusses logging in Forest County