Tammy delivered testimony this morning at a hearing of the International Trade Commission (ITC) on behalf of a Wisconsin paper company, Appvion of Appleton. The purpose of her attendance at the hearing was to highlight the importance of the paper industry in Wisconsin and to address an important trade matter that impacts Appvion, a pulp and paper mill that manufactures and sells coated paper products world-wide and employs 1,644 employees in Wisconsin, Ohio and Pennsylvania.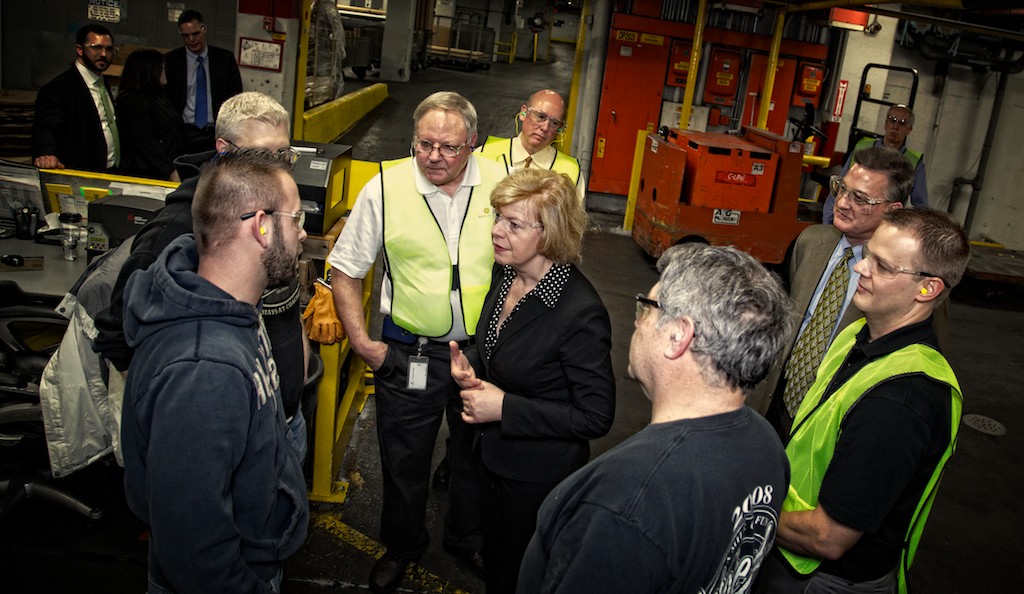 "Senator Baldwin was among the first to support our fight for a level playing field on which to compete when we began the process in 2007. We appreciate the Senator's strong and ongoing efforts to protect Wisconsin manufacturing jobs by ensuring a fair and competitive marketplace," said Mark Richards, CEO Appvion.
The Appleton-based paper company was a petitioner in a 2008 antidumping investigation on imports of lightweight thermal paper from China and Germany. As a result of the investigation, antidumping duties were imposed on imports from Germany and China and countervailing duties were imposed on imports from China. Antidumping duties are put in place for five years. After the initial five-year period, the Department of Commerce and the ITC review the duties and determine if revoking them would likely lead to continuation or recurrence of dumping, and to what extent the domestic marketplace would be harmed. In February, the U.S. Department of Commerce found that dumping by German and Chinese thermal paper producers would likely continue if the duties were revoked. Today, the ITC heard testimony about how the domestic marketplace is impacted by dumped imports.
"In Wisconsin, we have one of the largest manufacturing sectors in the nation, supporting a large share of our workforce and exporting goods all over America and the world. Wisconsinites work hard and play by the rules. Whether it's making paper products, diesel engines or navy ships, when Wisconsin manufacturers compete on a level playing field, more often than not, they win," Tammy said, "Appvion and their employees have played by the rules of international trade and have done quite well. However, they are under constant threat from foreign companies that play by a different set of rules and quite frankly, companies that cheat"
Tammy's testimony from this morning's hearing can be found here.
In May, Tammy testified before the International Trade Commission on behalf of Wisconsin stainless pipe manufacturer, Felker Brothers of Marshfield, in a pending anti-dumping investigation.